Remembering Bob Atchley
With a heart broken open with sorrow and gratitude, we share the news that Bob Atchley died on Tuesday evening, November 13, 2018,  in Boulder, CO. His beloved wife Sheila was by his side remembering tender moments of their love life and singing their songs as he passed.
Bob is respected, known and loved by so many of us and this message comes with an invitation to share your remembrances and tributes to him.
Bob is a member of our Council of Honored Sages who was "infected" by Reb Zalman's profound new vision of growing older – Spiritual Eldering – and added his Spirituality and Aging wisdom toward growing a Sage-ing movement of conscious elders. Their relationship began at Omega in 1992, continued at Naropa and kindled the Sage-ing legacy we are living today.  Bob always brought his songs along with his wisdom and spirit to workshops, to meetings, to conferences.  
Bob and Sheila wrote "The Journey" more than 25 years ago and in many ways it is our trademark Sage-ing song.
Light from within, that's our illumination
To dwell in silent peace, that's our meditation
To see the passing world with clearness and compassion
And when we clearly see, we are drawn to be love and to serve
 To listen go to bobatchley.hearnow.com.
As Sage-ing leaders we share this precious life journey, from age-ing to sage-ing, alone and together.  Let
'
s pause now to share our remembrances and tributes to Bob Atchley in our virtual community.
---
From Sheila Atchley
I wish I knew what to say, but am still trying to accept this.    I will copy a message from our Boulder Friends Meeting (Quakers) for the brief version.
I need to share the very sad news of the death of Bob on Tuesday yesterday evening.  Bob suffered a major heart attack and was taken to Boulder Community ICU.
Bob and Sheila had a tender final time singing together and remembering their courtship days. Bob was conscious with sparkling eyes before he entered surgery. His heart had suffered irreparable damage. The surgeons invited Sheila into the OR as he was taken off support.
Bless dear Bob, in gratitude for knowing his remarkable spirit, his love of music, and his ever seeking soul.  Hold Sheila and the family in our light and love.
You may share with others who mourn with me (Sheila)
---
From Pat Hoertdoerfer
Although Bob and I met during the leadership transition of SEI to Sage-ing Guild and all the financial turmoil that entailed, I caught the sparkle in his eyes and the quiet calm of his presence.  Over the ensuing years we had random deep conversations on spirituality of aging and his being "infected" by Reb Zalman and the passion to bring needed wisdom into the world by revitalizing the wisdom-keeping role of Elder.  
His story of meeting Reb Zalman at Omega, their weekly dialogues among Sages in Boulder, and his songwriting career beginning with "The Journey" at Omega were fuel to kindle the Service component of SI today.  
Our intimate Service Committee conversations over these past 8 years have guided Sage-ing leaders/members in the principles and values of Qualities of Sages in Service.  Our most recent collaboration in writing Spiritual Elder Activism e-course (SI – S&P) was an integration of his spirit and music with my words and stories.  
He blessed us with song at 2018 Conference, especially "This Little Light of Mine" at post conference.  He was living our tagline every day – wisdom and spirit in action!  
What a blessing to be with him and to sing with his Sage-ing fans!  Let's bless one another and sing his songs for days and years to come
FOR SO SHORT A WHILE
Oh, only for so short a while you
have loaned us to each other,
because we take form in your act of drawing us,
and we take life in your painting us,
and we breathe in your singing us.
But only for so short a while
have you loaned us to each other.
Because even a drawing cut in obsidian fades,
and the green feathers, the crown feathers,
of the Quetzal bird lose their color,
and even the sounds of the waterfall
die out in the dry season.
So, we too, because only for a short while
have you loaned us to each other
–Aztec Indian Prayer 
---
From Gary Carlson
I share the great sadness we all must feel.  I first met Bob when he was the president of the SEI Board, and I was a new board member (2004).  He was working hard to save SEI, after several years of financial difficulties.  Bob, Sandy Mall and I then had the sad responsibility of taking SEI through bankruptcy the following year.  While sad, we did it with dignity and responsibility.
Knowing Bob in the intervening years as a fine gentleman, a great song-writer and singer, and always as a supporter of our new Sage-ing Guild, then Sage-ing International organization, I will miss him greatly.
Rest in Peace!
---
From Lynne Iser
I am so sorry to hear of his passing.I want to share a bit of my/our early relationship with Bob….. when Reb Zalman and I met him — which was likely early 1990.
He was a gerontologist at Scripps Gerontology, Miami University, in Ohio…. when he learned of Reb Zalman's work… he understood it — what it was and why it was needed….  it was a time when elders were ONLY called "seniors" … and Bob recognized the truth behind Reb Zalman's work, that there was a process that we could embrace for becoming an elder.
Bob was also the past president of the American Society on Aging — and at that time Reb Zalman and I were attending those conferences — there were no alternatives, no positive aging conferences, no sage-ing, etc….. and to have a credible gerontologist affirming our work was so helpful.  We recruited Bob for the Sage-ing Eldering  Board… and he has been a part of this work ever since.
Bob was also a part of Reb Zalman's life, attending many of the small teachings, conversations that Reb Zalman offered…. supported by a cadre of others wanting to listen, engage and further their shared consciousness.
May Bob's memory always be a blessing.
---
From Jerome Kerner
I am saddened by Bob's death.  One thing I am sure of, his music will live on. We will miss him.
---
From Anne Boynton
I am heart-broken to share that Bob Atchley died on Tuesday evening. What an incredible loss of a dear, kind, wise human being who loved life and shared himself quietly, calmly and often with a twinkle in his eyes.  He will be profoundly missed.
With warm wishes to you all.
---
From Gustavo Boog
I  am so sorry that Bob passed away. I knew him at 2016 SI Conference.
Peace to all family and friends
---
From Patricia Carlson
My deepest condolences. Bob's sparkling and generous spirit made a strong impression on me even in the short time I knew him, so I can begin to imagine how acute the loss you feel is.
As often happens, birth and death coincide. Our colleague Margaret is expecting her first grandson today, and so I had a candle lit for Olivia, the mother, in labor. Now I know that the candle is lit for Bob, Sheila, and all who love them as well.
In sympathy and with love
____________________________________________________________________
From 
Mary Ann Brussat
Thank you for letting us know. This is such sad news. I remember so fondly my conversations with Bob at the conference a couple years ago, and of course we loved having his contributions to our e-courses. I have several CDs and I will be sure to listen to one of them tonight in remembrance.
Much love to you, to Sheila, and to the Sage-ing Community.
Salaam, Shalom, Shanti, Peace,
---
From Carol Orsborn
Dear Sage-ing Community,
I am so saddened by the loss of Bob Atchley. He has inspired so many of us with his talent, message and charisma over the years, both when he was on center stage before hundreds and just as happy when there were just a handful of us in an intimate salon, enjoying the quiet moment of a few well-loved songs and the aura of affirmation that he carried in his welcoming smile. Rest in peace, Bob, and my sympathies to family and friends. Bob, your gifts will live on in our hearts.
---
From John Robinson
In the few short years I knew Bob we shared two special interests: a love of song writing and a fascination with the work of Indian mystic Nisargadatta Maharaj. We also shared our life stories and our deep gratitude for our marriages. It was a deep honor and heart privilege to have time with this kind and gracious soul. I wish him well on his continuing journey and will greatly miss his steady cheerful presence in SI. With love, John Robinson
---
From Judy Steiert
It was with disbelief that I read of Bob's passing this morning. I met Bob in Dayton at our first conference in 2008. After I did my first ever public presentation of the poem Autumn Wisdom with movie clips, I happened to be at Bob's table for lunch. He just gazed at me at said "Excellent" three times. I was so grateful and felt launched and blessed by him for future endeavors. I was able to chat with him at 3 other conferences including this year and he remembered again. I have one of his CDs and love the song about finding one's soul within. Bob's tribute to Reb Zalman was also memorable. Forever in our hearts, Rest in Peace.
---
From Edna Ross
I am shocked and unspeakably saddened by the sudden death of Bob Atchley. My heart goes out to his beloved wife, Sheila, for her tragic loss. And to all of us for the loss of such a wonderful human being and sage.
I shall remember his always twinkling eyes, extraordinary wisdom, unending joie de vivre and delicious sense of humour. It has been a great joy & privilege to spend just a little time with someone so talented, wise, generous and fun-loving, who despite his great achievements and contributions to our world, never took himself even slightly seriously.
Rest in peace, dear Bob. Thank you for your gifts and laughter.
---
From Judith Helburn
I first met Bob and Sheila in Boulder in the mid-90's when I was training to be certified. They sang one of Bob's early songs—the beginnings of Bob's newest venture. Such a mensch!   I learned from him at every SI conference and enjoyed his singing and songs. I remember his saying to a group of us to sail into our passion, remembering not to follow a sunken ship. Bob was one of a kind and I will miss him. A loss to all of us. May he be a blessed memory to all who knew him.
A Few Images of Bob
---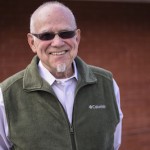 ---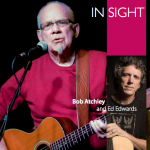 ---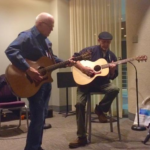 ---
---
---
---
About Bob Atchley:
Bob was an award-winning teacher, scholar, author, and mentor to many who manifest spirituality in their lives.
He presented numerous lectures and workshops to a wide variety of audiences and has written more than a dozen articles for general audiences on this subject.
His knowledge of the subject came from extensive interviews and research, being part of several working groups of researchers, writers and lecturers focusing on spirituality, being involved in several organizations promoting "conscious aging" and/or spiritual growth, and his own 30-year conscious spiritual journey.
In addition to doing many workshops on his own, he has been co-presenter of workshops with Rabbi Zalman Schachter-Shalomi on "From Age-ing to Sage-ing" and with Ram Dass on "Conscious Aging."
Since 2000, he published entries on spirituality for three different encyclopedias. His next book, Spirituality and Aging: Expanding the View, is forthcoming from Johns Hopkins University Press.
He  received more than a dozen awards for his teaching, writing, and service, including the Distinguished Career Achievement Award from the Gerontological Society of America and the Benjamin Harrison Medallion, Miami University's highest honor given to a faculty member.
He received the American Society on Aging's award for Distinguished Contribution to the Education of the Nation.