CONFERENCE LIVE AUCTION ITEMS 
Live auction items will go up for bid Saturday evening after dinner.  Also visit the "Readorn Yourself Costume Jewelry" fundraiser table listed below. 
DESTINATION OFFERINGS
1.

 

FIVE DAYS IN HEAVEN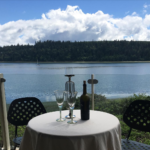 Spend five days enjoying a condo on the lush tree-lined coastline of Port Ludlow Bay in Washington.  Within minutes, you will discover Port Townsend where history and modern life blend. Shop in boutiques and galleries, stroll along the historic streets, and dine in some of the best restaurants around.  Other day attractions on the Olympic Peninsula will tempt your time—Dungeness Lighthouse, Hurricane Ridge, Marymere Falls at Crescent Lake, or on to the Pacific Ocean!
WHERE: Admiralty II Condo in Port Ludlow, WA, a coastal village near Seattle, WA
WHAT:  This charming condo with two bedrooms, two baths, kitchen, living room can accommodate two to four people for a perfect quiet retreat.
VALUE:  $1500
MINIMUM BID:  $750
2.

 

 EXPERIENCE THE ALBUQUERQUE BALLOON FIESTA IN OCTOBER, 2019 
Come to Albuquerque to share the 2019 Balloon Fiesta with Sage-ing leader couple, who live a mile from the balloon launch site and often have balloons landing in their community.  See 700 balloons launch one morning and enjoy a balloon glow and fireworks another evening.

WHERE:  The North Valley of Albuquerque in an intentional community near the Rio Grande River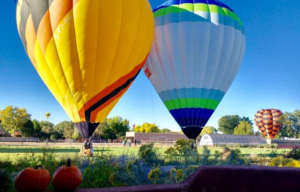 WHAT:  This is a couple's get away weekend.  Host will pick you up and return you to the airport, provide lodging, food and drinks while you're here, and take you to a morning balloon launch and an evening balloon glow.  You will have other balloon watching experiences from their home, including fireworks displays seen from their upstairs deck and possibly helping a balloon land.
WHEN:  Come stay  for 3 days and 2 nights, October 11-13, 2019 (Friday through Sunday)
VALUE:  $800 MINIMUM BID:  $400
3.

 

 

ONE WEEK IN A LUXURY CONDO IN PARADISE

 
WHERE:  Mazatlan, Mexico on the beach just north of the Marina in Las Gavias Grand Resort Condominiums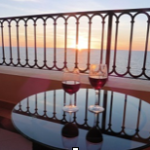 WHAT:  This 1830 square foot condo can accommodate 6 people in two bedrooms (one king bed and two queen beds).  There are two bathrooms, full kitchen, a spacious lanai, huge pool and hot tubs, and exercise room.   Many beach and water adventures are readily available as are interesting tours of the region.  Mazatlan is a wonderful city with many 5-star restaurants in their newly remodeled Old Town and unlimited Mexican cuisine throughout the region.
WHEN:  Must be used by October 15, 2019.  It is not available from October 16th through April 1st.  The best times are April – June and early October.  The summer months are very hot and September is quite rainy.  
VALUE:  $1600 for one week.  MINIMUM BID:  $750
NOTE: There are two offerings of this destination!
4.

 

A LONG WEEKEND IN SUNNY CALIFORNIA ON DONNER LAKE IN THE HIGH SIERRA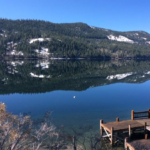 WHERE: Truckee, California, 15 miles north of Lake Tahoe
WHAT: As a couple or two singles, spend a long weekend hiking, swimming, kayaking, enjoying the cool summer ambiance in a historic mountain community in a family home.  Experience includes tour of Lake Tahoe, Donner Party historical site, and Old Town Truckee.
WHEN: Friday through breakfast Monday in July or August 2019
VALUE:  $1500
MINIMUM BID:  $600
5.

 
ENJOY NH COUNTRY LIVING
WHERE:  Located on the shore of the Pemigewasset River looking into the White Mountains in mid-state NH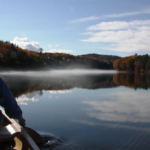 WHAT:  For 1-2 couples or a family of 4, this is an adventures-galore homebase with swimming & paddling kayaks on the river, hiking in the White Mountains, Mailboat cruise on Lake Winnipesaukee, Cannon Mountain aerial tramway OR country-solitude homebase in their backyard or beside waterfalls, covered bridges, quaint eateries
WHEN:  Come for 3-4 days to the home in New Hampshire's Lakes Region in late Summer or early Autumn
VALUE:  $1000 for 3-4 days
MINIMUM BID:  $500
6.

 
THREE NIGHTS IN DAVIS, CA WITH DAY TRIPS TO NAPA VALLEY, SAN FRANCISCO BAY AREA, POINT REYES SEASHORE, ETC.
WHERE:  Be our guest in this family home for three nights, four days exploring in and around a vibrant small college town (home to UC Davis), 30 minutes from the Sacramento airport, with a local AMTRAK station downtown.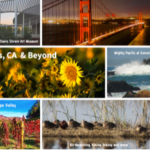 WHAT: This is an invitation to a couple for a long weekend (or three weekdays)  exploring the rich and diverse greater San Francisco/Sacramento area. Hosts will pick you up and return you to the Sacramento airport (or AMTRAK station if coming from San Francisco airport) and tailor day trips to your interests with options to explore Napa Valley wine country, San Francisco Bay Area, Lake Tahoe/Sierra and/or Marin and Sonoma county beaches and hiking trails. They will provide breakfast and other meals when at home and arrange tickets for museums, theater or concerts (extra) upon request. 
WHEN: Best times Spring or Fall 2019.
VALUE: $1000
MINIMUM BID:  $400
7.

 

A CHOOSING CONSCIOUS ELDERHOOD RETREAT 
WHERE:  Ghost Ranch, New Mexico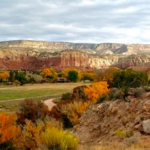 WHAT:  Retreat with Ron Pevny that includes meals, shared lodging with one other participant, and retreat tuition. Transportation to Ghost Ranch, which for most people includes flying into Albuquerque and sharing in car rental to Ghost Ranch, is not included. A $150 tuition discount for a paying guest.  This item is transferrable to another person in case of inability of the high bidder to participate.
WHEN:  Early October, 2019 (dates not yet set) This is a weeklong retreat beginning on a Sunday afternoon and ending the following Saturday afternoon.
VALUE:   $1600
MINIMUM BID:  $800
NOTE:  If, for some unanticipated reason, this retreat next October is canceled, Sage-ing InternationaI will refund the high bidder's money or their payment can be considered a donation to SI.
ART OFFERINGS
1.

 

  

"THE HERDSMAN," PROFESSIONAL PHOTOGRAPH PRINTED ON CANVAS

(donated by James Shields)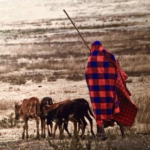 WHAT:  Signed by artist photograph of a Massi Herdsman in Tanzania. 24 by 36 inches
VALUE:  $600
MINIMUM BID:  $250
2. "THE STEEPLES", PROFESSIONAL PHOTOGRAPH PRINTED ON CANVAS
(donated by James Shields)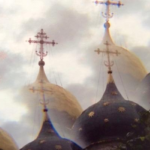 WHAT:  Signed by artist photograph of triple image of cathedral towers. 24 by 36 inches
VALUE:  $600
MINIMUM BID:  $250
3.  JUDY CHICAGO POSTER. (donated by Georgeanna Tryban)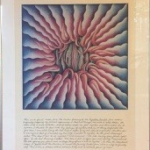 WHAT: Framed and numbered poster by Judy Chicago titled "Peeling Back"  was purchased at an art exhibit at Indiana University about 20 years ago, 33.75 inches high and 27.25 inches wide
VALUE:  $500 MINIMUM BID:  $150
Other Opportunity to support Sage-ing International
READORN YOURSELF COSTUME JEWELRY FUNDRAISER
Visit the Costume Jewelry table and purchase anything for $5 and you will be supporting Sage-ing International's programs and services.
You can help Sage-ing International even if you will not be able to attend our conference, Elder Voices Transforming the World: Our Stories in Action! Please consider contributing to "Re-adorn yourself!" We will have a $5.00 for anything table which will feature any costume jewelry that you and others contribute. This project was a success last time. So, search your jewelry box for pieces you no longer wear and either bring them to the conference of send them to: Marian Eisner, 9722 Palmer Circle, Bloomington MN, 55437. If you are sending items, please label the package SI Conference. Many thanks in advance.