"Deepening the Sage Within"
A Sage-ing ® International intensive workshop for the Pacific Northwest
Friday (5 pm) to Sunday (3:30 pm), June 22-24, 2018
Peace and Spirituality Center – 1663 Killarney Way – Bellevue, Washington
Our Goal: We are pleased to offer a "Deepening the Sage Within" weekend intensive workshop in the Seattle area. This weekend opens opportunities to improve the second half of life – not by pretending we are not growing older, but by recognizing the value we offer as elders, and responding in practical, positive ways to the changes in our lives. We harvest life experiences leading to further growth.
Participants will practice how to:
Examine the myths of aging and affirm the potential of our elder years
Look at the past through 'life review' and 'life repair' exercises tapping the wisdom of what we know already
Explore how forgiveness is a gift we give ourselves
Connect with our inner wisdom through growth techniques of psychology and spirituality
Harvest wisdom and how to transmit it as a legacy to future generations
Nourish ourselves physically, emotionally, mentally, socially and spiritually
Create peace of mind with spiritual preparation for facing one's mortality
Identify ways to serve as mentors and healers in society
Develop a vision of self as an elder
Who will benefit:
Older adults and the lives they touch
50-something adults who wish to design their second & third stage of life
Anyone interested in 'conscious aging'
Professionals and care-givers who work with elders
Clergy, spiritual directors, social workers, hospice workers
All people who are interested in exploring a new paradigm of the life cycle as described in Rabbi Zalman Schachter-Shalomi's best-selling book, "From Age-ing to Sage-ing." (Please read it before the workshop!)
Our materials are not specific to any religious discipline, but enhance spiritual maturity for persons who embrace any faith or humanistic practice. This workshop fulfills the prerequisite for Certified Sage-ing Leadership (CSL) training.
Pat Lewis , a Certified Sage-ing Leader (CSL) since 2000, has led workshops and retreats for a variety of groups including other SI Intensives. An educator by background, Pat has worked with elders in a variety of ways for 30 years, particularly in the area of spirituality. She is a hospice volunteer and she has a business called "Age-ing with Wisdom®." Pat is a founding member of Wider Horizons, a new Virtual Village .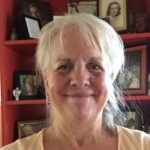 Rees Robinson   is a Certified Sage-ing Leader (CSL). She's trained as a Heartwork End-of-Life Planning Group facilitator and as a Center for Courage and Renewal Soul of Aging facilitator. Rees volunteers with hospice and is a Spiritual Care Provider at Harborview Medical Center. She is currently studying spiritual direction as part of the Sacred Art of Living's Anamcara Project.
Workshop Fees:
The US-$275 fee includes workshop materials, lunches, snacks, and an abundance of
resources from Sage-ing International. Nearby lodging opportunities are easily available for participants from outside the area. Contact Pat if you are in need of suggestions (use button below) .
Registration deadline: May 31st