A one-day event offered by Sage-ing® International
Saturday March 9, 2019 – 9:30 a.m to 4:30 p.m.
Scarborough (Portland area), Maine USA
The Program:  
Fear of dying and avoidance of considering our own death keeps us from living fully. A healthy relationship with death and dying, on the other hand, helps us to live well. In this interactive workshop we will explore the last stage of life from a number of perspectives, including:
What we believe and feel about our own death and dying
How we can talk to family about our wishes for our end of life
What we will leave as a legacy
What we can do now to prepare for our inevitable death
How we can grow spiritually in our later years
Our materials are not specific to any religious denomination, but serve to enhance spiritual maturity for persons who embrace any faith or humanistic practice. Based on the best-selling book: 
From Age-ing to Sage-ing: A Profound New Vision of Growing Older
  by Rabbi Zalman Schachter-Shalomi, which is recommended (but not required) as advance reading.
Come prepared to share your beliefs, explore new ideas, and expand your intellectual, practical and emotional understanding as well as your ability to live and die without regrets.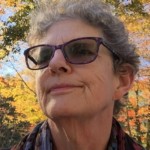 Presenter: Anne Murray, MS, CSL.
Anne is a Certified Sage-ing Leader based in Kennebunk, Maine. She has 70 years of life experience, over 30 of them spent working, making music, and playing with elders. She is a Sage-ing Circle Facilitator and has led dozens of circles, groups, classes, and events. She loves sharing her light-hearted passion for living consciously, and looks forward to helping you engage in Sage-ing.
To Register:
The fee of US-$7 5 (payable by credit card, below) includes course materials and refreshments. Bring a packed lunch, please; beverages and snacks will be provided. Partial scholarships are available, contact Anne for information.
Because of space limitations, prompt registration is advised. Registration deadline: February 28.
Location:
We meet at the Southern Maine Agency on Aging, located at 136 U.S. Route One in Scarborough, ME 04074 , on the southern edge of the Portland area. Use the rear entrance to the lower-level Conference Room. Ample parking to the left of the building. Doors open at 9:00 am; we begin promptly at 9:30. A useful map and directions are available from the Registration Page.
Questions?
Please contact Anne: 207-494-9376 or Email: mainesage@outlook.com