CONFERENCE ENRICHMENT ACTIVITIES
Registration
Thursday, 7:30-8:30 am, 3:00-7:00 pm
Friday, 7:30-8:30 am, 12:00-1:00 pm, 4:30-5:30 pm
Saturday, 7:30-8:30 am , 12:00-1:00 pm, 4:30-5:30 pm
Sunday, 7:30-8:30 am, 12:00-1:30 pm
Early Bird Energizers
Friday/Saturday, 7-7:45 am 
Morning Stretch & Revitalize
Sara Tufvesson Doure,  Room 308
Gentle Chair Yoga
Gail Braverman, Room 304
Guided Mindfulness Meditation
Ruth Dow Rogers, Room 300
Receptions
Thursday, 8:30-10 pm, Room 308, Certified Sage-ing Leaders (CSLs)
Friday, 4:30-5:30 pm, Oak View Room, First Floor,  Conscious Elders Network (CEN)
Art Exhibit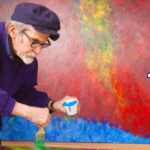 Aribert Munzner, acknowledged by Reb Zalman for "the genius of his inner contemplation made into graphic form" generously will exhibit paintings from his 60-year retrospective in McKnight Hall.  Visit his website here. 
Elder Education Curriculum World Cafe
Friday, 7-9:30 pm, Room 308
Join fellow Elder Educators
To co-create a comprehensive Elder Education Curriculum from the beginning of Elderhood to end of life;
To know the different contributions that each elder education program has to make to Conscious Elderhood;
To know and compile the resources; videos, books, articles, workshops, websites, music,  etc., and to make them widely available to the design of future curriculii
Sponsor and Partner Exhibits
Learn more about our sponsors and partners by perusing their exhibits and displays in Room 317 throughout the conference.
Meet and Greet
Thursday, 8:30-9:30 pm, 3rd Floor, Lakeview Lounge
Friday, 9-10 pm, 3rd Floor, Lakeview Lounge
Music Jams
Thursday, 8:30-9:30 pm, Solarium
Bob Atchley, Brian McCaffrey, Edward Dee
Friday,  9-10:00 pm, Solarium
Bob Atchley, Brian McCaffrey, Edward De
Book Exhibits
Friday, 11:30-1 pm, 4:30-7 pm
Presenter authors/conscious aging book exhibit (Solarium)
Book Signings & Conversations
Saturday, Noon-1:00 pm, Solarium
Keynote speaker book signings & conversation: Richard Leider, Rachael Freed, Bill Thomas, Yeye Luisah Teish
Sunday, 12:00-1:00 pm, Solarium
Keynote speaker book signing & conversation: Matthew Fox
Fireside Chats
Friday, 7:30-9 pm 
"Friends of Reb Zalman," with Anne Boynton, ROOM 300
"Spiritual Retreats around the World," with Carol Scott-Kassner, ROOM 301
"What it Means to be an  Honored Sage"  with Harry (Rick) Moody and Rees Robinson,   ROOM 304
"The Sage and Sexuality: The Yin and Yang of Sexuality as We Age," with Charlotte M. Carlson: ROOM 305
"How is Your Aging Going?" with John Robinson: ROOM 307
"Mapping the Service Landscape: Stories and Songs," with Bob Atchley: ROOM 319
Readorn Yourself Costume Jewelry Fundraiser
Visit the Costume Jewelry table and purchase anything for $5 and you will be supporting Sage-ing International's programs and services.