Sage-ing: A New Way of Aging
Sage-ing is looking at life in a new way as we grow older, a spiritual practice that involves harvesting the wisdom of our lives, transmitting that wisdom as a legacy to future generations and giving back through service. Learn more here. Sage-ing International (SI) offers workshops, webinars, Wisdom Circles and Sage-ing Chapters as well as online resources and conferences.
To honor pioneers in the field of conscious aging , Sage-ing International has created a "Council of Honored Sages" comprised of well-known professionals who have demonstrated exceptional leadership in relating to elders and the aging process. These "sages"   serve as the "wise Elders" of Sage-ing International, and are called upon from time to time to lend their vision to our growth and development.  We will be introducing a different honored sage every two months over the next two years.  Meet our  2017 Council of Honored Sages here.
Featuring Honored Sage Bob Atchley
Bob Atchley Reflects:
2010 was one of the most rewarding points in my life. I was selected to be one of Sage-ing International's Circle of Honored Sages.
My journey to Sage-ing began in 1975, when I set out on an intentional quest for spiritual connection. This phase of my life involved study, meditation, and dialog with sages. I had been on this path for 17 years when in 1992 I attended a conference on "Conscious Aging," and heard Rabbi Zalman Schachter-Shalomi speak about his vision of how we might resuscitate the ancient role of spiritual elder and apply it in today's world. His vision stressed the importance of direct spiritual connection and wisdom from reflecting a lifetime of direct experience. It also laid out significant developmental tasks involved in fully embracing our capacity as sages. 
Reb Zalman's vision allowed me to combine my life's work in gerontology with my spiritual life, to bring spiritual and practical integrity to my vision of my own later life. The Sage-ing community has evolved into a group that assists sages-in-training with their spiritual development and advocates for spiritually-grounded service. In my view, service is an ongoing part of everyday life. Sometimes it may involve taking roles in organizations, but in my experience the opportunities to be of service are ever-present in everyday life, if we have learned to tune in to them.
Sage-ing is a vantage point and way of being and doing. I discovered in 2008 that my calling within this work was to write and perform songs of love, spiritual insight, and call to action. Songwriting for me is a mystical process of being in touch with my inner sage and waiting for songs to appear. My task is to bring these songs to people and watch them be uplifted and inspired by them. My original songs are available for listening free of charge  here. 
Bob Atchley on YouTube
Legacy of Wisdom – Mission and Fulfillment
Legacy of Wisdom – The Secret and What is Wisdom
Legacy of Wisdom – Active Engagement and Inner Retreat
Bob Atchley's New CD
Bob Atchley's new "sage-ing" journey music  here.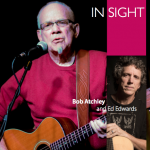 Bob  easy-going baritone voice and strong lyrics are accompanied by equally strong acoustic guitar from Ed Edwards. Many songs have a beat that provides "incitement to dance." His songs probe the many meanings of love, connection with the human spirit, and music's role in showing us important forms of truth. Bob has been a folk-singer since the 1950s and a song-writer since the 1970s. He has recorded four albums of original music since 2010.
Where do I start?
Join, it's free!Donate!Resources!WorkshopsWebinarsFacebookCommunicatorBulletin
Listen to Jerome Kerner Interviewed
SI Co-Chair, Jerome Kerner was recently interviewed by Frank Newton and Patti Teal of Everyday Enlightenment out of Sedona about Sage-ing while Aging.  Listen here.
Co-sponsored E-courses
Sage-ing International and Spirituality & Practice will continue our collaborative work together, co-sponsoring two new e-courses this fall.  You will receive 12 emails sent on Monday, Wednesday, and Friday for four weeks, and have the opportunity to participate in an online practice circle.
Spiritual Elder Activism, co-authored and facilitated by Pat Hoertdoerfer and Bob Atchley, October 2 – 27, 2017. Find more information and register here.
Moving Beyond Life's Hurts, co-authored and facilitated by Joanne Turnbull, Carol Scott-Kassner and Marilyn Loy Every, October 30 – November 24, 2017. Find more information and register here.
Service Call to Action
SI's Service committee offers monthly inspiration encouraging compassionate action in these times. Read Bob Atchley's call here and Pat Hoertdoerfer's call here.
Connie Goldman Scholarship Program
To learn more about the Connie Goldman Scholarship Endowment Program click here.  To make a contribution to the Connie Goldman Scholarship Endowment Fund click here.
Amazon Smile supports SI
If you shop through  Amazon  you can make your purchases through Amazon Smile which in turn gives a percentage of your purchases back to our organization at no additional cost to you. Simply go here and select Sage-ing International as your charity and then make future purchases through Amazon Smile. Thank you. 
Upcoming SI Webinars, Workshops & Retreats
Sage-ing Intensive Workshops (SIW)
October 13-15, "Aging with Wisdom" Peace and Spirituality Center, Bellvue, WA. Register here.
Webinars
Tuesday, October 3rd,  Dr. John Robinson, "The Divine Human." Find more information and register here.
Date TBD, "For the Grandchildren:  Caring for our Planet," with Paul Severance.
Awakening the Sage Within (ASW)
September 13 – October 18,  six weekly sessions, presented by OLLI, North Carolina State, Raleigh, NC. Don Adams, CSL, facilitator. Register here starting July 24.
October 14, Oxford, England, Quaker Meeting House,  Jerome Kerner, CSL,  facilitator. Find more information and register here.
October 15, Longmont/Boulder, CO, Longmont Senior Center. Maureen Dobson, CSL, & Rosemary Lohndorf, CSL/ASM, will serve as co-facilitators. Find more information and register here.
October 21, Kansas City Missouri. Cindy Siemers, CSL, is the facilitator for another North Kansas City-area ASW opportunity at Wexford Place. Find more information and register here.
Coming soon:
(USA) Northern California… Atlanta, Georgia…Minneapolis, Minnesota
+ (Australia)   Metro Sydney, NSW, early in 2018
LEARN
LEARN MORE about Sage-ing principles and practices, or PARTICIPATE in one of our educational programs.
CONNECT
Conscious Age-ing is about networking with other Elders. Join or create a local WISDOM CIRCLE.
SERVE
Conscious Age-ing is about giving back, providing service, mentoring. SEE what Sages in Service are doing.
Sage-ing International is committed to transforming the current paradigm of  aging to "sage-ing"  through  learning, community building and service.
With a confidence born from harvesting life experience and with a humility that sees service as the natural result of continued inner growth, we find ways to serve every day. This generosity of spirit elicits joy in human relations, while positively benefiting the communities and cultures we serve.
We embrace new paradigms for aging to realize our potential.
We recall important people and events and how they have shaped us.
We harvest the wisdom learned through life's triumphs and challenges.
We find solace in forgiving others and ourselves
We make peace with death, taking spiritual and practical steps
We create a legacy through service, mentoring and activism
Is Sage-ing for You?
Are you in the second half of life and wondering what to do next? Have you just retired, have you recently become an empty-nester or has some other life transition left you wondering "what's next?" Sage-ing may be your answer!
Sage-ing engages curiosity, community, commitment and connections and encourages us to enrich ourselves and our world through serving a cause, contacting a friend, reading a good book, attending a class, or enjoying the beauty and wonder of nature.
Embracing a sage-ing way of life may be the most important thing you do for yourself (and for others in your life) this year.
Here we share wisdom and inspiring stories from the Sage-ing International community, as well as from other partners in the rich collective of the conscious aging field. We aspire to bring you changing content of interest that keeps you coming back for more!
Meet Reb Zalman
Meet Reb Zalman and learn about Sage-ing and Conscious Aging principles.
Qualities of Sages in Service
With a confidence born from harvesting life experience and a humility that sees service as the natural result of continued inner growth, we find ways to serve everyday. This generosity of spirit elicits joy in human relations while positively benefiting the communities and cultures we serve. More about these here. 
Deep Listening
Compassion
Joyfulness
Peacefulness
Open Communication
Lifelong Learning
Inclusiveness
Integrity
Reverence for Life
Respect